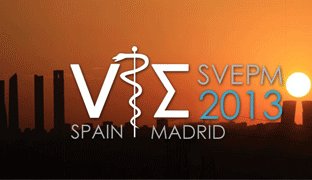 The next Annual Meeting of the Society for Veterinary Epidemiology and preventive Medicine will be held 20 - 22 March 2013, at the Illustrious Official College of Physicians of Madrid.
The conference will retain the usual popular format, including a number of inspiring workshops and two invited plenary lectures to open and close the scientific programme.
The conference will start on March 20th at 13:30 and close on March 22th 13:15. Workshops will be held on March 20th from 9:00 to 12:00.
Sessions?:
Opening Plenary Lecture – Professor José Manuel Sánchez-Vizcaíno, University Complutense of Madrid: "The Spanish experience on the control and eradication of infectious diseases: from the old to the current system"
Foot and Mouth Disease
Disease Transmission/Control
Veterinary Public Health
Syndromic Surveillance
Open Session
Observational Studies
Farmer´s Perceptions and Disease Control
Methods
The Gareth Davies Lecture - Professor Andreas Hensel, President of the Federal Institute for Risk Assessment, Berlin. Dioxins, EHEC and strawberries: "Risk assessment and risk communication in practice"
Workshops
Data mining and machine learning: What's their relevance to a veterinary epidemiologist?
Conducting an epidemiological investigation during a multicountry infectious disease outbreak
Introduction to several methods for detecting temporal anomalies in epidemiological surveillance
Basic epidemiological concepts
The economics of animal health impact assessment
One health on the move
Related News:
Intermediary Consortium Meeting, Madrid, March 2013 - 10.04.2013
Links:
www.svepm2013madrid.es