Organised by SVA, APHA and SAFOSO with assistance from the RISKSUR consortium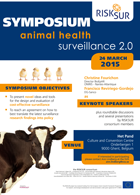 The RISKSUR symposium, "Animal Health Surveillance 2.0" took place 24 March 2015 at Het Pand Convention Centre in Ghent, Belgium, in conjunction with the annual meeting of the Society for Veterinary Epidemiology and Preventive Medicine (SVEPM 2015). The symposium focused on current challenges and priorities in animal health surveillance and was a great success with over 50 participants from 17 different countries, stimulating talks, and a busy round of group discussions in a World Café format.
With a strong emphasis on discussion between surveillance program designers, policy makers, members of the RISKSUR advisory board and RISKSUR consortium members, the symposium provided an excellent opportunity to present and share novel ideas and tools about the design and evaluation of cost-effective surveillance and on how to reach an agreement on the main determinants for how these could successfully be taken forward to influence policy.
Download the detailed programme HERE.
Download the flyer HERE.
The Symposium video recordings and slides are publicly available. You can watch them on the RISKSUR YouTube channel or browse the talks below: