RISKSUR is to organise a one-day symposium themed "Animal Health Surveillance 2.0". The event will take place 24 March 2015 at Het Pand Convention Centre in Ghent, Belgium, in conjugation with the annual meeting of the Society for Veterinary Epidemiology and Preventive Medicine (SVEPM 2015).
Stakeholders such as surveillance program designers and policy makers will interact with RISKSUR consortium members and members of the advisory board. The symposium's objectives are: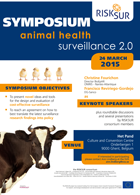 to present novel ideas and tools for the design and evaluation of cost-effective surveillance
to reach an agreement on how to best translate the latest surveillance research findings into policy
Keynote speakers:
Christine Fourichon, Director BioEpAR ONIRIS - Nantes-Atlantique
Laszlo Kuster, DG-Sanco
plus roundtable discussions and several presentations by RISKSUR consortium members.
Download the detailed programme HERE.
Download the flyer HERE.
Online registration is now closed.