SAFOSO is a Swiss consultancy, research and capacity-building company founded in 2003 by the former director of the Swiss veterinary authority. We are a trans-disciplinary, international team working with private companies, governments, international organizations, consumer groups, diagnostic companies and academic institutions – whichever are the relevant stakeholders.
The focus of all our efforts is the protection of human health by insuring the safety of people in contact with animals as well as the safety of animal-derived foods – from stable to table. The scope of our expertise includes topics such as risk assessment, disease & hazard management, surveillance, contingency planning and simulation exercises, knowledge management and dissemination, SPS documentation, data mining & systematic review or e-learning.
On RISKSUR, SAFOSO is the leader of "Training, dissemination and exploitation" work package, and therefore has been highly committed in activities like the organization of the so called "Surveillance surgeries", development of training materials or the maintenance and updating of the project LinkedIn group.
Role in the project
Participant in WP 1, 2, 3, 4, 5 and 7 | Leader of WP 7 | Conceptual surveillance framework development | Development of frameworks and tools | Development of training materials and good practice guidelines | Development and implementation of dissemination and exploitation strategy | Facilitate communication with Swiss policy makers and other stakeholders | Facilitate access to Swiss data for case studies.
Personnel Involved
Prof. Katharina Stärk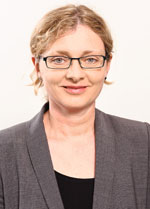 Over the last two decades, Katharina has conducted applied research on infectious diseases and zoonoses as well as methodological issues related to risk analysis, surveillance and animal health decision making. She has worked in diverse environments including government, private industry and academia in numerous countries. Katharina is also Professor of Veterinary Public Health at the Royal Veterinary College, London, where she is leading research on surveillance, zoonoses and food safety. Katharina has repeatedly served on international working groups and expert panels on surveillance, risk analysis and public health. She is co-editor of the journal Epidemiology and Infection. She was coordinator of the FP7 project PILGRIM.
Dr. Jorge Pinto Ferreira
A veterinarian, originally from Portugal, Jorge started his career as a dairy cattle practitioner. After finishing his Master studies on Food Safety, Jorge was a Fulbright Scholar at North Carolina State University (USA), where he completed his doctoral studies about AntiMicrobial Resistance (AMR)/ Methicillin-resistant Staphylococcus aureus  (MRSA). Jorge joined SAFOSO in 2012, and has since been working mostly on FP7 projects, like RISKSUR, ASFORCE and EFFORT.